I have not visited New York City since 1993! This visit, far too short for museums and art galleries, was extraordinarily special, albeit way too short. I ventured only on the West Side, yet at least I got to see the upper and lower sides of it. The purpose for my voyage was to celebrate a loved-one´s birthday with wine, dine and theater. We did fit in one small photo-work related errand. We were joyfully entertained and uplifted by the creative children and families disquised to celebrate Halloween. We ate Mexican cuisine in honour of All Saints Day. We witnessed the streets and several locations of racers participating in the 2015 New York City Marathon. We nourished our hearts and spirits, simply strolling attentively and peacefully in Central Park. I hope the selected photos offer a pleasant  'snapshot' of Autumn 2015 in NYC.
Welcome to the textures and colours of automn in Upper West Side NYC.
The profundity and breadth of New York City is difficult to present, even for the most accomplished authors….
Chapter 1.
'He adored New York City. He idolized it all out of proportion… no, make that: he – he romanticized it all out of proportion. Yeah. To him, no matter what the season was, this was still a town that existed in black and white and pulsated to the great tunes of George Gershwin.'
Uh, no let me start this over.
Chapter 1.
'He was too romantic about Manhattan, as he was about everything else. He thrived on the hustle bustle of the crowds and the traffic. To him, New York meant beautiful women and street-smart guys who seemed to know all the angles…'
Ah, corny, too corny for my taste. Can we … can we try and make it more profound?
Chapter 1.
'He adored New York City. For him, it was a metaphor for the decay of contemporary culture. The same lack of individual integrity that caused so many people to take the easy way out was rapidly turning the town of his dreams in…'
No, that's going to be too preachy. I mean, you know, let's face it, I want to sell some books here.
Chapter 1.
'He adored New York City, although to him it was a metaphor for the decay of contemporary culture. How hard it was to exist in a society desensitized by drugs, loud music, television, crime, garbage…'
Too angry, I don't want to be angry.
Chapter 1.
'He was as tough and romantic as the city he loved. Behind his black-rimmed glasses was the coiled sexual power of a jungle cat.'
I love this.
"New York was his town, and it always would be."
― Woody Allen, Manhattan
Deserted streets, cleared of vehicle circulation. Not as dramatic or promising as the view from the Queensboro Bridge, yet a first for me!
"The city seen from the Queensboro Bridge is always the city seen for the first time, in its first wild promise of all the mystery and the beauty in the world."
― F. Scott Fitzgerald, The Great Gatsby
2015 NYC Marathon finished ! Bravo to ALL racers. Many racers going to Paris and other European destinations were on the plane with me on my way home.
Colombus Avenue, race day. The New York City Marathon has grown from a Central Park race with 55 finishers to the world's biggest and most popular marathon, with 50,530 finishers in 2014.
Street Action, Bus Loops, including uptown, downtown and midtown traffic flowing and bunching up, shops and pedestrians in constant motion .
Working from, on and near the NYC streets is a timeless and never-ending creative story.
Iconic NYC and Sylvester Stalone.
Iconic New Yorker. I subscribed when I lived in California.
The New Yorker is an American magazine of reportage, commentary, criticism, essays, fiction, satire, cartoons, and poetry. It is published by Condé Nast. Started as a weekly in 1925, the magazine is now published 47 times annually, with five of these issues covering two week spans.
Although its reviews and events listings often focus on the cultural life of New York City, The New Yorker has a wide audience outside of New York. It is well known for its illustrated and often topical covers, its commentaries on popular culture and eccentric Americana, its attention to modern fiction by the inclusion of short stories and literary reviews, its rigorous fact checking and copy editing, its journalism on politics and social issues, and its single panel cartoons sprinkled throughout each issue.
Iconic construction on the LowerWest Side where a lot seemed to going on, including a new park.
A variety of looks of a typical workday in NYC near the 34th Street Subway Station.
The 34th Street Subway Station.
Iconic phpotographer 'look' on the Lower West Side while I was doing an errand. I wonder how many people have made this photo?
Halloween pumpkins decorated city street spaces and a decorated door invited trick-or-treaters. Note the differences in decor from the English Halloween, and the Latin All Saints below. This simply is a witness of decor, and does not inform on how the differing traditions have evolved.
All Saints Day decor, Mexican style. The feast of All Saints was instituted first, to commemorate the consecration of a temple, secondly to supplement omissions; thirdly to atone for our negligence, and fourthly to help us fulfill our wishes.
Italian – Ognissanti
Spansh  – Todos los Santos
Portugese  – Todos os Santos
English  – All Saint's Day or All Hallows' (Day)/Halloween
German  – Allerheiligen
Greek – Αγίων Πάντων (le premier dimanche after the Pentecôte).
Iconic NYC life and enjoyment in doggie walking, deli shopping, baby strolling, bus and taxi riding on the Upper West Side.
Service call on the Upper West Side.
The exceptional colours and the unparalleled temperatures invited complicity in savouring each beautiful breath until the lights dimmed and disappeared into the night's expanse.
Inhalations of nature's perfection obliges gentleness.
Gentleness in all its power compels love.
"Nothing is so strong as gentleness, nothing so gentle as real strength."
Saint Francis de Sales, 1667 – 1622
More lovebirds.
Changing light and form.
A slight abstraction of colour, light and form.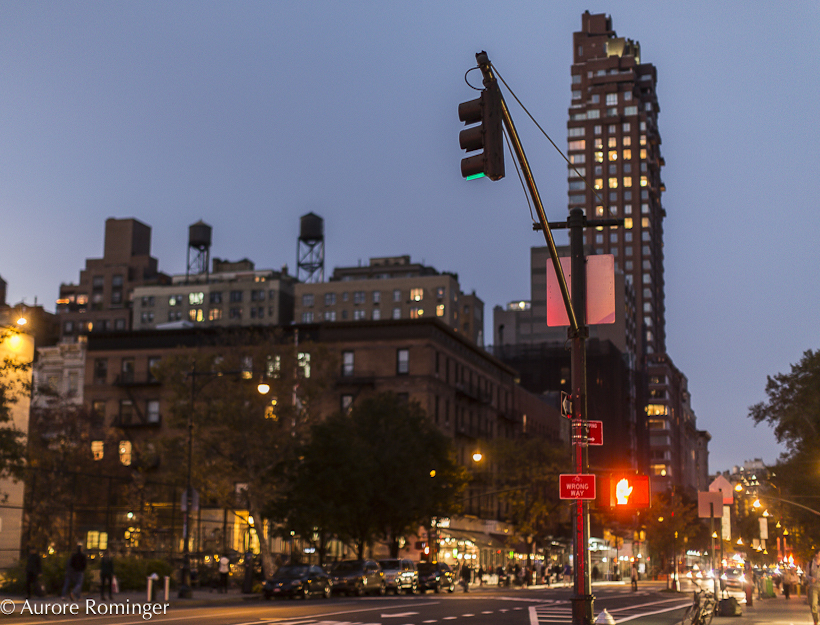 2015 New York City autumn
Return to the city lights at dusk.
On the last note, an acknowledgement to New York humour.
Page Links:
kid://www.tcsnycmarathon.org/
http://www.goodreads.com/quotes/tag/new-york-city
https://en.wikipedia.org/wiki/Central_Park
http://www.centralparknyc.org
http://www.lexilogos.com/toussaint.htm
www.brainyquote.com/quotes/quotes/s/saintfrancis
*