On February 26, 2017 – the 5 year anniversary of the death of Trayvon Martin – over 75 people joined together with Culture Honey Presents and local Pasadena non-profit Sister Support to watch a screening of the Academy Award nominated documentary 13th.  After the screening, a panel-led discussion and question and answer time was moderated by poet Natalie Patterson. An audio transcript of the evening's discussion will be available here shortly!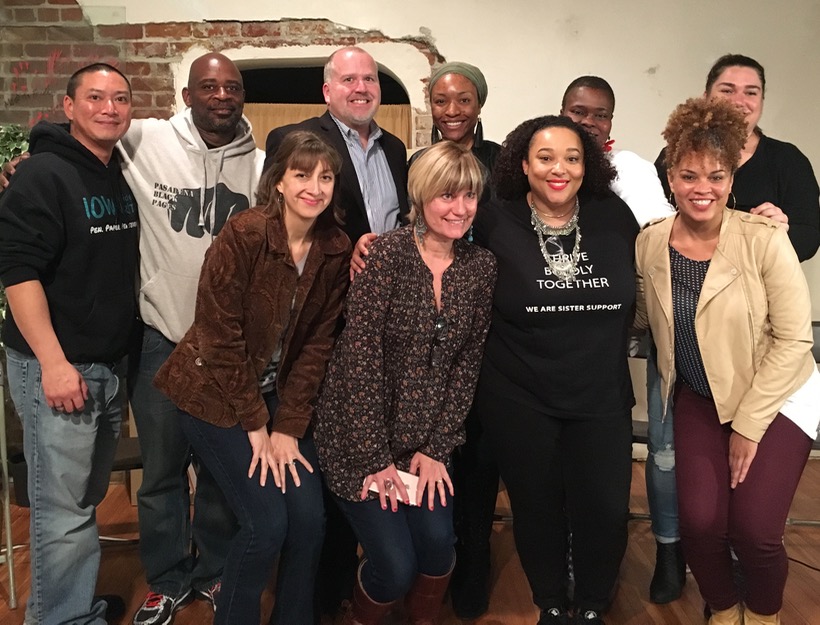 Panelists & hosts included (from left to right) Jimmy Wu from Inside Out Writers, Dennis Haywood from The Pasadena Black Pages, Craig DeRoche from Prison Fellowship, Jeanelle E. Austin from Fuller Theological Seminary, Dr. Kidogo Kennedy from the University of Southern California, Dr. Nicole Haggard from Mt. Saint Mary's University, Erin Wurtemberg from the Los Angeles Twin Towers Correctional Facility, Georgia Sanders from Culture Honey, Natalie Patterson from Sister Support and Danielle M. Dupuy from the University of California at Los Angles. The film was screened at the Sister Support space known as the Warehouse on Prime just off of Lake Ave. in Pasadena, CA.
The powerful documentary 13th is available for private viewing on Netflix, and as the company that distributes the film, Netflix has also granted permission for public viewing. Here's a trailer if you haven't seen it:
A diverse community group of over 75 people gathered together to view the film and participate in the panel-led discussion afterwards!
Once the film closed, an informative, honest and impassioned discussion ensued!
The amount of dedicated work evidenced by the former inmates, academics and activists on the panel was truly inspiring. The hope of the organizers in bringing this event together is that people will become activated to not only find ways to support those who are or have been incarcerated, but their family members and children as well. Multiple non-profits that offer services in these and other supportive areas were highlighted during the discussion.
Then there are the broader societal changes and reforms in the areas of the militarization of local law enforcement, law enforcement training, racial profiling and mass incarceration that need huge reform. This was all made abundantly clear by the documentary.
We hope that all of our readers and those that attended the evening in person will do their own thoughtful research to find ways of impacting in these areas. We have also put together a resource list that we encourage you to use to see where you can get involved!
In addition to a delicious array of snacks (and even pizza and wings provided by Pasadena Black Pages!) those in attendance were treated to an art performance by Angela Willcocks! Not only can you see her work below, but on most Fridays you can find her creating a brand-new art piece at Perry's Joint in Pasadena!
*
Originally Published: Feb 28, 2017 @ 06:18