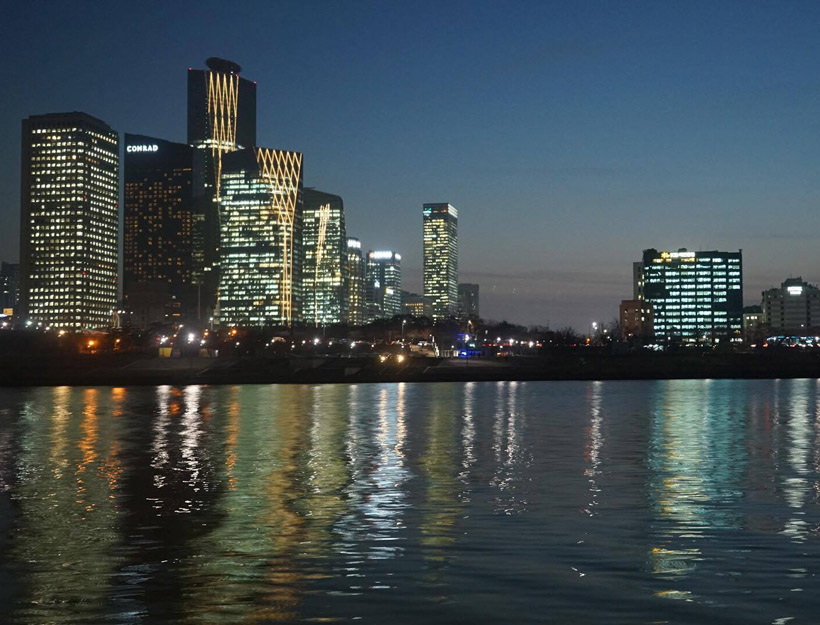 Seoul, South Korea: it's all about the food!
There is so much you can do in Seoul, the beautiful capital of South Korea, and it is all about the food. But the food encapsulates so much more than just a simple meal. Take the
Pang Show
, an entertaining variety show where the audience participate by baking bread. While the audience bake some (absolutely delicious) bread, the entertainment begins. Dancing, acting, juggling. There is also a little audience participation. It's dinner and a show, literally. It's all about the food… and the dancing and the drumming and the fun.
The Pang Show is enjoyed while taking a cruise on the
Han River
and the audience can also spend time relaxing on the desk of the boat, marveling at the incredible sites of the city, pictured above. The whole experience is two hours and something you definitely will not forget. For a little bit more visualization, check out @HowToSeoul's video below.
And the beautiful scenery, wherein you can enjoy the food!
Away from the attractions and organised fun, several famous universities exist in and around Seoul. These include Yonsei U, Hongik U, and Ewha Womans U. And with universities come university students, which means a young, buzzing community of foodies. The college college town of
Hongdae
, pictured below, is just one example of a fun and vibrant community where students live, study and do plenty of eating! Students always know where to find the best street food.
Should you visit, I hope you like
K-pop
, because interspersed with the food stalls are the clothing shops, all playing loud K-pop music to entice customers into having a browse!
If K-pop isn't really your thing then besides getting yourself checked out (because you're crazy), perhaps
Gwangjang Marker
, the 100+ year old market of fantastic fabrics and textiles is more up your street.
Despite what the name suggests – and though you can buy stunning custom-made hanboks (traditional Korean clothes) – most tourists come here to eat the tasty food at the stalls in the middle of the market. It's a genuine market eating experience, complete with gritty
ajummas
(Korean ladies). Traditionally meaning a married Korean lady, ajummas can also refer to an aunt or an elderly women. They are the powerhouse of Korea and have been influential in transforming the country into what it is today. You know what they say about what is behind every great man.
One of the two famous dishes in this market is mungbean pancakes (빈대떡), which are pretty phenomenal with a bottle of soju or makkeolli on a cold winter night (also good if you're by yourself acting out a dramatic scene from a Korean drama). If you're just into snacking, try mayak gimbap (마약김밥) aka "drug" gimbap (don't worry, no actual narcotics are used). They're a Gwangjang speciality and are beyond delicious, proving the theory that bite-size portions always taste better.
Although Gwangjang Market has been written about in everywhere from Lonely Planet to Munchies, what is so important is that the market still remains authentic and retains its Korean cultural heritage, style, and charm.
This is a place in Seoul where you'll find both tourists and Koreans, all enjoying the same delicious food.
There are a couple sections of the market, and when you're walking around you'll come across stalls selling clothes, fresh vegetables, and other unique finds.
Meat… anyone?
Gwangjang Market is an overwhelming place of gastronomic beauty. There are mounds of food and hungry people eating in every direction.
Eventually everything will look so good, and you'll be faced with the paradox of choice (there are just too many good things to choose from), and so you'll just have to choose the nearest stall, sit down, pick something, and start eating. Trust me, you won't regret it.
And if that wasn't enough to get you to book a plane ticket, there is always Korean
BBQ
. World famous and nowhere more delicious than the place of its birth. There's something captivatingly simple about Korean BBQ. It's deliciousness and complexity comes from its authenticity. Though you can have an array of options to choose from, the key to a delicious meal is to keep it simple.
My advice: take advantage of all the side and try different combinations. You can get refill on these. My favorite meat is the short rib combined with the sweetness of the soy. Happy travels & bon appétit!