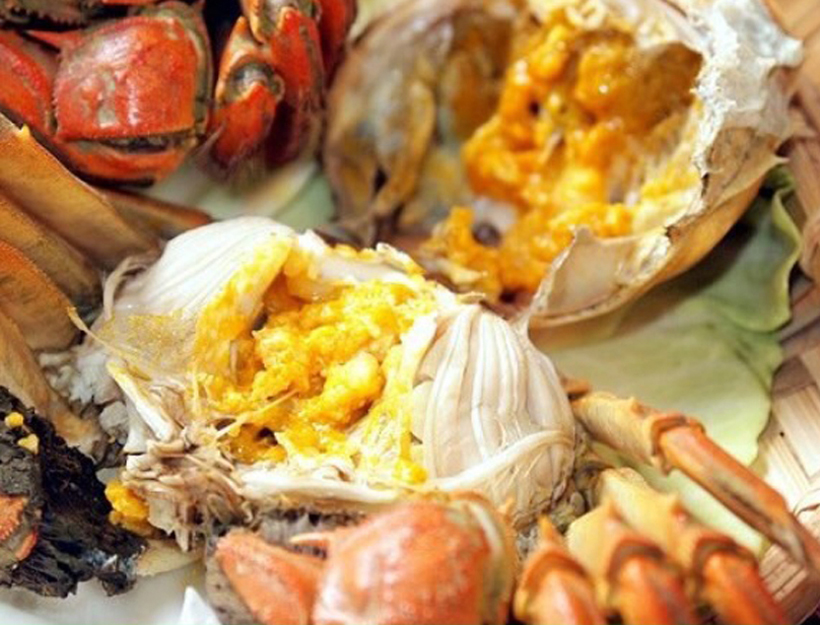 Have you ever heard of Hairy Crab?  If you are a foodie and sea food lover, we're sure you have – but if you haven't – read on and find why RIGHT NOW is one of the favorite food times of the year from Hong Kong to Shanghai to Singapore!
The gourmet name for the seafood is dazha xie, or "big sluice crab" (大闸蟹).  The best time to eat dazha xie is usually in September-November when they are freshly caught, while "regular" hairy crabs are actually eaten year-round in Shanghai!
Typically restaurants prepare the meal in two ways: traditionally steamed whole crab served with black vinegar and shredded ginger, and crab sautéed with prawns and bell peppers in a rich crab roe sauce.
The hairy crab is nearly always eaten with huangjiu (Chinese yellow wine) or ginger tea, and the meat is often dipped into a sauce made of vinegar, shredded ginger, red sugar and soy sauce.
I personally really, really like the egg-yolk orange crab roe!
I can tell you that spending the last 3.5 years at school in the U.S., the Hairy Crab season at home in Hong Kong is something I definitely miss!! Take my advice and if you are traveling to Hong Kong, Shanghai or Singapore, make a special point to try Hairy Crab and you will not be disappointed!
*
Here's two top hotel restaurants in Hong Kong that serve Hairy Crab in season:
Man Wah
Mandarin Oriental Hong Kong
Up to November 30
5 Connaught Road, Central, Hong Kong; +852 2825 4003
Cuisine Cuisine
The Mira
Up to November 30
118 Nathan Road, Tsim Sha Tsui, Hong Kong; +852 2315 5222
Page Links:
Current Forbes Article on Gourmet Hairy Crab!
Hairy Crab (Chinese Mitten Crab) Wiki