Just under two hours southwest of New York City and only one hour northeast of Philadelphia, Bucks County, Pennsylvania is a peaceful and quiet destination away from the hustle and bustle of everyday life in the city. One of three original counties created by William Penn in 1682, Central Bucks County remains relatively untouched by modern development, and it is easy to step back in time while admiring the bucolic landscape and colonial structures that have survived centuries. Taking scenic drives along back roads through farmland dotted with old stone farmhouses, and visiting historic sights, sprawling parks, and quaint towns makes this a desirable weekend getaway.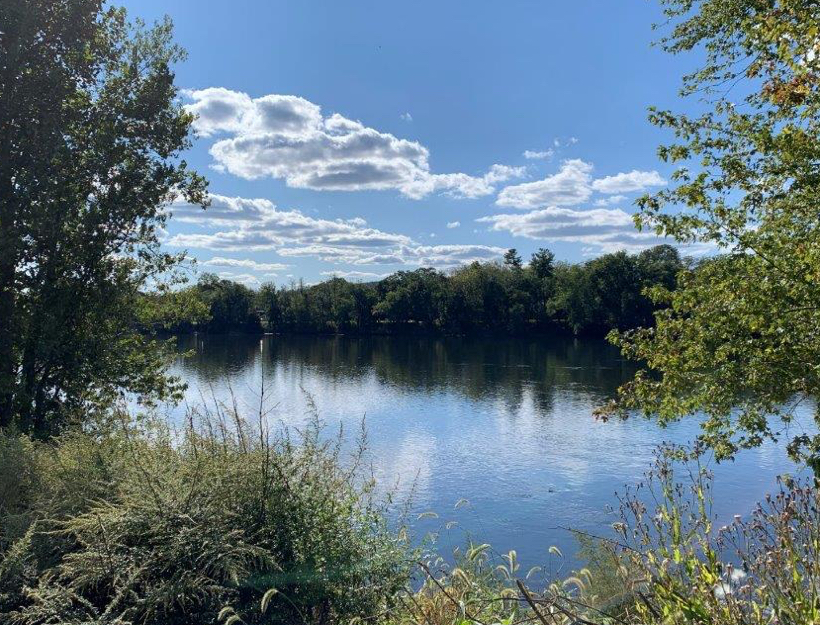 Bordered by the Delaware River to the east and neighboring New Jersey across the river, the banks provide a playground for bikers, hikers and anglers as well as a relaxing place to dine or gaze at the surroundings. Canals built along either side of the river were originally used to haul coal and many of the original locks are still in existence. This area that parallels the Delaware River is Pennsylvania's Delaware Canal State Park and New Jersey's Delaware and Raritan Canal State Park. For 30 miles, the PA/NJ Canal Loop Trails are connected by six river bridges that span the two canals. Biking on these trails is an especially memorable way to experience the natural beauty of the river and sweeping views of the countryside along the way.
One early autumn weekend, my husband and I had the pleasure of spending the night with friends at the charming Black Bass Hotel in Lumberville, PA for a biking excursion. This historic inn on the National Register of Historic Places was built in the 1740s and is one of the oldest inns in the country. Most of the rooms have balconies overlooking the Delaware River, as does the elegant restaurant with both indoor and outdoor seating. Our beautifully appointed room, aptly named after Grover Cleveland who often stayed here, was adorned with antiques, a claw foot tub and a working fireplace! Although George Washington had stayed at many establishments in this area during the American Revolution, it's interesting that he was not welcome here because the innkeeper was a Tory and loyal to the British. The hotel is conveniently located on the PA Canal Loop Trail and upon our arrival at noon we immediately unloaded our bikes and eagerly rode to the trail.
During our stay it was sunny with temperatures in the mid-60s – the perfect biking weather! We biked 9 miles north on the Pennsylvania side to Uhlerstown, passing fertile fields, old clapboard homes, and stone barns along the canals. The Uhlerstown Covered Bridge, built in 1856, is one of many covered bridges in the area that is still in use. Here we crossed over the river to Frenchtown, NJ for a tasty grilled sandwich and irresistible french fries at the Frenchtown Café. This small town is one of many towns along the trail where locals and visitors can shop, dine or relax with their favorite beverage. We also stopped to listen to a local jazz band playing in a small park off Bridge Street before we continued our journey back on the New Jersey side of the river.
Our next destination was the Federal Twist Vineyard just a mile south of our hotel. Their well-placed sign on the tree-lined trail beckons cyclers and hikers alike for their refreshing wine "slushies" and tastings just a short walk across the road. Sipping a slushie and listening to live music while seated in a large grassy area was ample reward for our 20-mile journey that day. As the late afternoon sun created large shadows across the rows of grapevines in the fields, we returned to the trail, biking over the bridge at Bulls Island Recreation Area to our hotel for the night. Dinner at the Black Bass Hotel is a fine dining experience not to be missed, serving their signature crab au gratin dish as well as crispy duck breast and grilled filet mignon.
After a hearty breakfast the next day at the Lumberville General Store, which is across the street from the hotel offering cozy indoor and outdoor fireside seating, we embarked on biking 6.4 miles south to New Hope, PA. The trail meanders along the canal and river, passing a beach area and beautiful historic and modern estates. We spotted a blue heron in the canal as well as numerous turtles and eagles that also nest in the area. The bustling villages of New Hope and Lambertville across the river in New Jersey attract both artists and tourists alike with their abundance of shops, restaurants, antiques and galleries. Just 7 miles south, Washington made his historic crossing over the Delaware River to Trenton, NJ on December 26, 1776 with a surprise attack and victory that was a turning point in the American Revolution. Washington Crossing Historic Park in Pennsylvania was developed on this spot with 500 acres to roam and a visitor's center that houses the well-known enormous painting depicting this event.
We continued north from Lambertville through the town of Stockton back to Bulls Island and the bridge to our hotel. This completed a 15-mile journey and we were ready to return to our homes just 24 hours after we arrived the day before. Our two-day biking adventure in beautiful Bucks County was just what we needed to recharge our batteries and get back to our normal routines at home and work. It's no wonder that Bucks County is so popular with retirees and suburbanites willing to commute to nearby cities from this rural yet sophisticated area. Cycling is just one way to enjoy Central Bucks County along the Delaware River and we only scratched the surface during our 24-hour stay. There are endless recreational opportunities and places to explore for the repeat visitor with more time on their hands. To cap off a delightful weekend, we stopped at a roadside vegetable and flower stand stocked by a local resident and bought a lovely bouquet of red, yellow and orange zinnias reminding us of the autumn splendor yet to come!
*